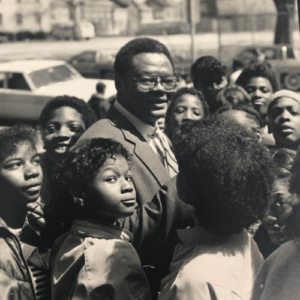 The Dr. Crosby Copeland, Jr. Scholarship honors the legacy and accomplishments of Dr. Crosby Copeland, Jr. and his many years of dedication to the education of young people in the City of Trenton as a teacher, principal and as Superintendent of the Trenton Public School District (New Jersey).  
From 1971 until 1982, Dr. Copeland served as the first African-American Principal of Trenton Central High School.  In that capacity, he was responsible for providing administrative supervision and leadership for over 3,000 students, 200 teachers, and 100 support staff.  He was credited during his tenure with re-establishing a peaceful atmosphere conducive for learning. 
 Dr. Copeland was subsequently appointed as the Superintendent of Trenton Public Schools.  He was responsible for managing the fifth-largest school district in New Jersey, consisting of a 100 million dollar budget, 13,000 students, 2,000 full-time employees, 27 schools, and administrative offices.  He was recognized statewide for presenting public testimony to local, state, and national educational groups, commissions, and legislative committees regarding issues related to urban education; equity of resources, funding, students at risk, and drop-out prevention. 
Dr. Copeland was the recipient of numerous awards and citations including the NAACP Achievement Award in Education and Civic Affairs, Fai-Ho-Cha Achievement Award in Education, National Conference of Christian and Jews Brotherhood Award, Trenton High Hall of Fame, and the Kappa Alpha Psi Northeastern Province Achievement Award.  
This scholarship was created through the joint efforts of the Copeland Family and the Trenton Kappa Foundation to help young men to develop their potential, achieve their goals and become successful and productive adults.   
The following criteria will be used when evaluating each application:
Candidate must be an African American male senior graduating from the Trenton Public School system (New Jersey).

Candidate will be pursuing a bachelor's degree on a full-time basis at an accredited four-year college or university within the United States of America

Candidate must have a minimum 2.7 GPA.

Candidate must be involved in the community while attending high school.

Candidate must have demonstrated financial need.
All scholarship awards are made payable to the educational institution for further credit to the student's account (tuition and mandatory educational fees only). The amount will vary. One scholarship per year will be awarded.
To view Dr. Crosby Copeland, Jr.'s full bio click here.
Click here to apply for the Dr. Crosby Copeland, Jr. Scholarship
Click here to donate to the Dr. Crosby Copeland, Jr. Scholarship