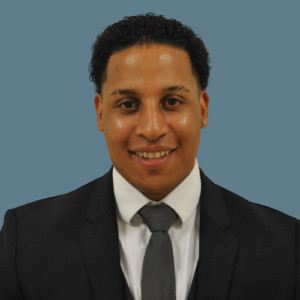 Palmer Richardson , Esq., is currently the Director of Corporate Compliance and Regulatory Affairs for CIS Management, Inc., a real estate development company. As Director of Corporate Compliance Palmer is tasked with ensuring the company is compliant with all applicable laws and regulations affecting the corporation. Prior to CIS Management, Inc. Palmer worked as a law clerk to the Honorable Judge Janetta D. Marbrey, New Jersey Superior Court. 
Palmer earned his diploma from Valley Forge Military Academy in 2008 where he was an honor roll student and earned two varsity letters in track and field. Palmer went on to earn his bachelor's degree in International Studies with a concentration in Sociology from Morehouse College in 2012. Upon graduating he was inducted into two Greek Honor Societies for International Studies and Sociology respectively. Following his graduation from Morehouse College, Palmer earned his JD from Temple University's Beasley School of Law graduating in 2017 and joined the New Jersey Bar in 2018. 
He has volunteered for a number of non-profits to include Young Scholars Institute of Trenton and Raising Expectations. Palmer is an active member of the Union County Chapter of the Urban League Guild Trenton Branch and focuses on youth based initiatives. 
Palmer is passionate about exercise and most outdoor activities including tennis, cycling, and running.